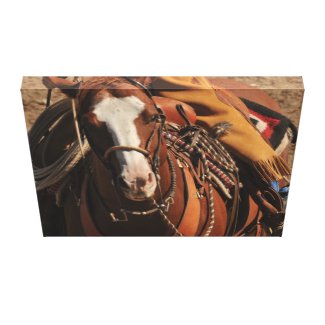 Cowboy on Blaze Faced Sorrel Horse
by
thecowboystore
This is a top view, of a print of a rodeo cowboy and his horse. You can see the image, wrapping around the canvas, and it does so on all four sides.
This photo was taken at a genuine Ranch Rodeo in Montana. Ranch rodeo, is when neighboring ranchers get together, and form teams, to compete against each other for the top prizes. The events are much like real ranch work, including branding and wild cow milking!
You can see all the details of a working cowboys gear in this photo.
Hope you've enjoyed hearing a bit about ranch rodeo!
Donna Ridgway