They say that it is good to let go...move on ...clear clutter...and I have decided to have another studio clean up sale.

"A Mid-Winter Special Studio Sale Of Art Work "

.

The work offered in this studio sale can be seen on my website on a page created specifically for that sale. I hope there a painting there that you cannot live without! It is ' Easy Peasey' to buy it with Buy Buttons through secure PayPal.

Help me de-clutter and buy hay for my horses!!
I have finished a new water color of a driving pair. Another ground driving painting, with the movement and brio that can take part in even the simple discipline of ground driving horses. "Ground Driving the Pair" is now up available on my Equine Art page.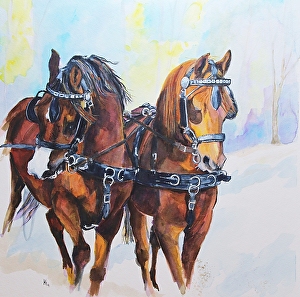 "Ground Driving The Pair" , watercolor, 17 x 16" ©2014 www.kathipeters.com
As soon as I finished the watercolor, I did a small casein of a Jack Russell pup….our hairy Nell modeled for me. She is a cheap model! One chewy bone and she is good to go.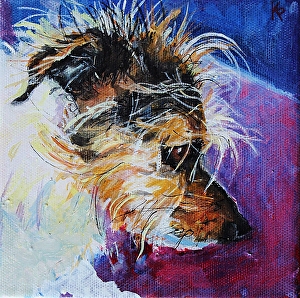 "Soft and Fuzzy" casein on gallery wrapped canvas , 6 x 6"
I am waiting for spring with such a longing. This winter has been brutal....warmth and green growing will be welcomed!
Until it comes.........I will paint!